LASIK Means
Vision for Life
Schedule a FREE virtual or in-office consultation today!
Take our one-minute self-test now to get started.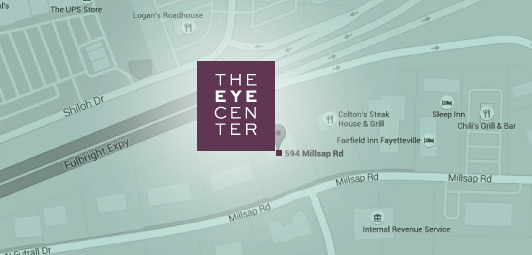 The Eye Center
594 E. Millsap Rd.
Fayetteville, AR 72703
Get Directions
479.442.2020
Why Choose the Eye Center?
Family Friendly
Our family-friendly office atmosphere makes your eye care visits stress-free for children, parents, and all stages of life. Meet our team.
Time Conscious
We know you're busy and we respect your time. It's part of our commitment to great service for all our patients.
Se Habla Español
Nosotros tenemos personal que habla Español para proveer una mejor communicacion con nuestros pacientes. Por favor de llamar al 479-442-2020 para assistencia inmediata.
Welcome to the Eye Center
The Eye Center has served Northwest Arkansas for over 30 years, focusing on essential vision care, cataract surgery – and the overall wellbeing of our patients, who are the most important people we know.
Ophthalmologists, optometrists, and vision care technicians at The Eye Center work together toward one goal: providing the best eye care in Northwest Arkansas.
Your vision is essential to your quality of life, and professional eye care is a must for you and your family. Our award-winning doctors are board certified and professionally active, yet our patients talk most about how caring and friendly they are. Every patient receives the best of new vision care technology, plus old-fashioned personal attention.
The Eye Center is a comprehensive eye care facility. Some of the kinds of vision care we provide:
Regular eye exams for infants, children, adolescents, adults, and seniors
Glasses and contact lenses for all ages
Treatment for diseases and disorders of the eyes
Surgery, including cosmetic surgery for the eye area as well as cataract surgery and LASIK.
We're conveniently located on Millsap Road in Fayetteville, easily accessible from 49 and right in the main Fayetteville Business District. We serve your entire family's eye care needs, from infant eye exams to cosmetic surgery, from student's vision needs to the special vision health needs of seniors. You can count on us for your vision for life.
Meet our Doctors:
Patient Feedback:

Best Eye Center around!

The best Eye Center around! Dr. Brown is Great! My vision was going down hill fast from having dry eyes. He has my vision almost back to normal and I started seeing him in December of last year.

Thank you Dr. Tamara Grammar Morris

Thank you Dr Tamara Grammer Morris for being so thorough with all my questions and eye exam, your the best!